Skip to Content
Foundation Repair Services in Northeastern Wisconsin
Crack Repairs from Everdry Waterproofing Fox Cities
All Northeastern Wisconsin homes experience some level of movement and shifting. Over time, however, this shifting can lead to severe foundation damage and open the door to unsafe living conditions. Once you've identified an issue with the foundation of your home, it's crucial to act as quickly as possible. Foundation damage can quickly spread to allow water and harmful gases into your basement. Whether you're dealing with a small hairline crack or severe structural problem, Everdry Waterproofing Fox Cities is the one to call. As area leaders in the foundation repair industry, our team is equipped with the latest technology and techniques to provide you with high-quality service. Our patented solutions are safe and effective for any home foundation.
Address Crack Repairs to Protect Your Health
Though a small crack in your foundation may not seem like a cause for immediate concern, many health issues should be considered. Any size opening can make it easier for harmful soil gases, including radon and methane, to enter your home. High concentrations of methane can lead to rapid breathing and heart palpitations, among other possible symptoms. Radon poisoning is even more of a reason for concern. This gas is colorless, odorless, and tasteless – its presence may not be obvious if not specifically tested for Long-term radon exposure has been linked to lung cancer and can lead to the following symptoms:
Persistent coughing
Shortness of breath
Wheezing
Coughing up blood
Chest pains
Unintended weight loss
Headaches
Fatigue
Confusion
Dizziness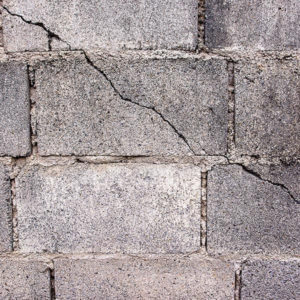 Comprehensive Foundation Repair Services
Foundation repair should be handled at first sight of a crack or inconsistency in your home's structure. Concrete block walls, which make up the structures of many home basements, come with a high risk of bowing over time. If left ignored, bowing walls could lead to collapse. If you are dealing with bowing walls, hairline cracks, or any level of weakened structure, we can help you find a path forward. Our team has the expertise and skills needed to repair severe cracks, reinforce walls, and add structural support to help prevent collapse. We guarantee long-lasting, safe results and promise a lifetime warranty with our foundation repair services. If you notice any of the following warning signs of foundation issues, give us a call as soon as possible:
Cracks in drywall
Bowing walls (especially in a basement)
Cracks in foundation walls
Difficulty opening doors or windows
Settling foundation
Contact Us Today for a Free Inspection
For the sake of your home's structural integrity, you should never gamble with the possibility of subpar foundation repairs. At Everdry Waterproofing Fox Cities, our top priority is always the long-term safety and satisfaction of our customers. We have the expertise to inspect and repair any type of weakened foundation. Give us a call today to get started with your free-of-charge, no-obligation home inspection. We'll happily provide our expert recommendations on the safest path forward for you and your family.
Request Your Free Inspection Today!