Skip to Content
Mold & Odor Control in Appleton, WI
Unrivaled Mold & Odor Control Solutions
Mold, dust mites, and odors in the basement are unpleasant but common, and most homeowners will have to deal with them sooner or later. If left untreated, however, these issues can cause problems for your home or affect your family's health. Luckily, mold and odor issues can be fixed by hiring a seasoned professional. At Everdry Waterproofing, we provide leading mold and odor control services for the Appleton, WI community. As Wisconsin's top basement waterproofing and foundation repair company, we always go the extra mile to make sure your home is safe and odor-free.
Common Basement Mold & Humidity Problems
Mold, dust mites, and odors in the basement can be caused by a range of different factors. Some of the most common issues homeowners encounter in their basements include:
Standard Mold: Mold spores grow nearly anywhere there's enough humidity and moisture for them to thrive.
Dust Mites: These microscopic mites release fecal material in the air that can cause allergic reactions.
Black Mold: This mold poses health risks and should be addressed immediately with professional mold remediation services.
Rot & Decay: If your home's foundation is made of wood, it's susceptible to high-cost problems caused by basement mold and humidity.
We Solve Mold, Dust Mites, & Odor Problems
Everdry Waterproofing treats mold, dust mite, and odor problems with quality basement moisture control completed by local professionals using state-of-the-art tools and equipment. We can resolve your basement issues with the following services: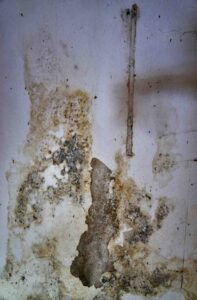 Applying waterproof and mold-resistant materials on your basement floor and panels
Controlling moisture levels with cutting-edge industry equipment
Treating mold with top-shelf products
Utilizing drainage systems, vapor barriers, and sump pumps to effectively waterproof your basement
Tips for Reducing Mold Growth & Dust Mites
There are steps you can take as a homeowner to prevent mold and dust mite problems from happening in the first place. These include:
Installing a quality waterproofing system
Repairing plumbing leaks immediately
Using mold-resistant materials on your drywall and carpeting
Checking your gutters frequently to see if they're functioning properly
Managing humidity levels in the basement and home
Utilizing a bathroom vent when taking steamy showers
Remove Mold, Dust Mites, & Odor With Everdry Waterproofing
Our team at Everdry Waterproofing performs effective mold and odor control to reverse the damage and provide an outstanding end result that leaves your space safe and comfortable. Better yet, our transferable lifetime warranty means the property will be protected by our stellar team from owner to owner.
Let Us Eliminate Dust Mites, Mold, & Odors From Your Home
At Everdry Waterproofing, our friendly and experienced team has served more than 80,000 customers in the past 40 years, and we'd love to help you and your family next! Contact us today to learn more about how our dedicated contractors can help you with a free estimate. Ready to get started? Schedule a free inspection with us today.
Request Your Free Inspection Today!